About Pilot Mountain State Park – Past & Present
Pilot Mountain State Park is a North Carolina state park located in both Surry and Yadkin Counties, North Carolina. Located near Pinnacle, North Carolina on highway US 52, it covers 3,735 acres and includes the distinctive 2,241 foot peak of Pilot Mountain.
Pilot Mountain is one of the remaining peaks of the ancient Sauratown Range, which also includes the mountains in Hanging Rock State Park and Sauratown Mountain (located on private land).  The peak is erosion-resistant quartzite hence why it has avoided erosion that wore down the surrounding areas over millions of years.
The Area's Heritage
The native Saura Indians called the peak Jomeokee, meaning "Great Guide" or "Pilot," because the conspicuous pinnacle. Rising 1,400 feet above the surrounding countryside the peak acted as a guide to Native Americans and early European settlers.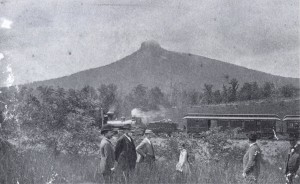 Eventually the Cherokee drove out the Saura tribe. Later, the first European settlers in the area were Moravians, a Christian religious group from Germany. They arrived via the Thirteen Colonies that they believed were getting overcrowded and overdeveloped. They are credited with naming the mountain "Pilot."
The mountain was first mapped in 1751 by Joshua Fry and Peter Jefferson, father of the third president.
After serving as a commercial tourist attraction, Pilot Mountain became the 14th North Carolina State Park in 1968.
The Pilot Mountain Preservation and Park Committee purchased the land from Mrs. J. W. Beasley by raising funds and acquired a grant from the federal government.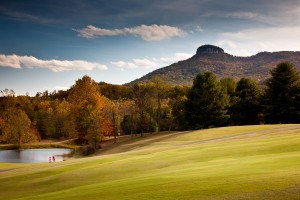 In 1970, 1,000 additional acres of land along the Yadkin River was added to the park and additional land has been added since, bring the total area of the park to 3,703 acres.
On November 8, 2012 a prescribed burn of 70 acres got out of control leading to a wildfire on the mountain's steep western slope.