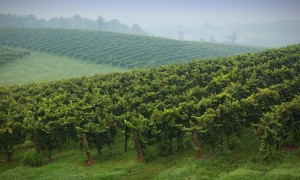 North Carolina boasts a unique variety of grapes and wine. Ranking as a top-five destination for wine travelers and enthusiasts, visitors can enjoy more than 100 wineries and 400 vineyards from the mountains to the coast. North Carolina has a storied history of wine and grapes, from being the home of our nation's first cultivated wine grape to being the leading wine producer before Prohibition.
Today, North Carolina ranks 10th in wine and grape production in the United States. The number of wineries has grown five-fold and grape acreage has more than doubled in the last decade. Overall, the North Carolina wine and grape industry generates an annual economic impact of $1.28 billion and supports nearly 7,600 jobs.
With a superb combination of sun, soil and soul, Yadkin Valley wineries are ideally located in the North Carolina region that is rapidly gaining a reputation for growing high-quality grapes and producing world-class award-winning wines.  Located in the Piedmont area of the Tar Heel State, wineries in the Yadkin Valley benefit from what many winemakers consider the best terroir in North Carolina. In the heart of the ABA in in the shadows of the majestic pilot mound is the award-winning JOLO Winery and Vineyards.
In recognition of these unique features, the federal government approved the Yadkin Valley American Viticulture Area (AVA), effective February 7, 2003.  The Yadkin Valley is North Carolina's first federally-recognized American Viticulture Area (AVA), consisting of over 1.116 million acres located in Surry, Yadkin, Wilkes, Davie, Davidson and Forsyth counties.  The Yadkin Valley has over 35 Wineries/Vineyards in the area which makes a trip here well worth your time. There is a wine, view and experience for just about anyone.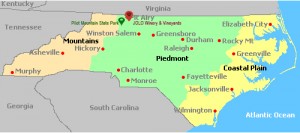 There is a lot of history in the Yadkin Valley, from the original native Americans, to the Moravian settlers in the 1750s, to  Daniel Boone, to the Revolutionary War, to the War Between the States, to Tom Dula (known as Tom Dooley) and Mayberry, as well as numerous wine festivals and tasting events, music festivals, craft and antique fairs.  Many of the businesses along and around the in the area contain a wonderful combination of Americana history, culture, arts and music along with award-winning wines.
To get details on selected wineries please click here.